30th International Cosmic Ray Conference
July 3 - 11, 2007, Merida, Yucatan, Mexico
Here is a pdf version of this page.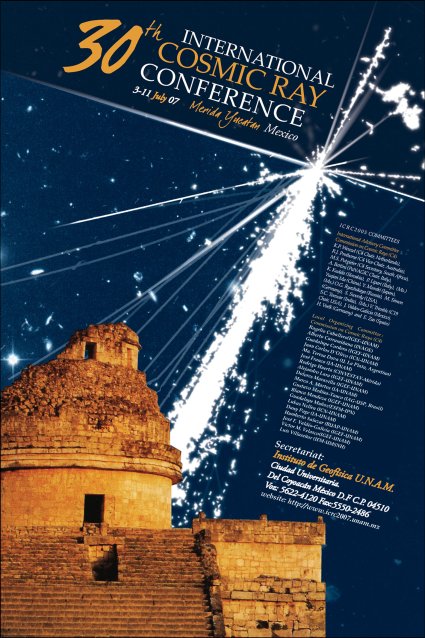 Overview
The 30th International Cosmic Ray Conference will be held July 3 to 11, 2007, in Merida, Yucatan, Mexico.
Details of the organisation, like topics, timetable, registration, and contributions, can be found in the conference management system.
Committees
International Advisory Committee
S. Swordy (USA), Chair
J.F. Valdés-Galicia (México), Vice-Chair
M. Simon (Germany), Secretary
W. Bednarek (Poland)
E. Berezkho (Russia)
O.C. De Jager (South Africa)
E. Fluekiger (Switzerland)
K. Kudela (Slovakia)
P. Lipari (Italy)
Ma. YuQuian (China)
Y. Suzuki (Japan)
S. Tonwar (India)
National Organising Committee
C. Acosta (UADY)
A. Carramiñana (INAOE)
R. Caballero (UNAM)
J. C. D'Olivo (UNAM)
M. De Coss (UADY)
R. Huerta (CINVESTAV)
M. Martos (UNAM)
O. Martínez (BUAP)
G. Medina-Tanco (UNAM)
J. Méndez (UADY)
L. Miroshnichenko (UNAM)
L. Nellen (UNAM)
J. Perez-Peraza (UNAM)
H. Salazar (BUAP)
J. F. Valdés-Galicia (UNAM), Chair
V. Velasco (UNAM)
L. Villaseñor (UMSNH)
International Scientific Programme Committee
T. Dova, (U. La Plata, Argentina)
L. Del Peral (U. Alcalá, Spain)
A. Etchegoyen (CONEA, Argentina)
M. Mostafa (U. New Mexico, USA)
A. Letessier-Sevlon (CBPF, Brasil)
J. Bellido (U. of Adelaide, Australia)
A. Rovero (U. Buenos Aires, Argentina)
D. Rodríuez-Frias (U. Alcalá, Spain)
M. Martínez (U. Canarias, Spain)
Information about Merida
Here are some sites with more information about Merida and Yucatan in general.
Conference secretariat
ICRC 2007 
Instituto de Geofísica U.N.A.M
Ciuidad Universitaria
Del. Coyoacan, México D.F., C.P. 04510
MEXICO
Tel.: +52 55 5622-4120
Fax: +52 55 5622-2486
e-mail: icrc2007@icrc2007.unam.mx
Web page: http://www.icrc2007.unam.mx/